Skip to product information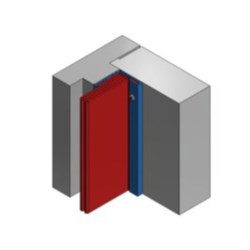 Finger Safe 1A
Sale price
$227.70
Regular price
$227.70
Tax included.
---
---
MK1A- Opening (push) side protection, this accordion shape gently ejects fingers from the opening area at the hinge gap.
This product will fit wood, aluminium, metal, stainless steel and UPVC doors to a full 180° to a maximum opening of 125mm (5 inches).
We can adapt the MK1A to fit doors or gates with a maximum opening of 215mm (8.5 inches).
Many serious injuries occur at the hinged end of a door. Fingersafe is recognised as world leaders in providing door safety systems to prevent such injuries. Fingersafe is manufactured in the UK, and sold extensively throughout the world.
There are numerous door hinge safety guards available in the world, but Fingersafe is the most reliable and efficient door safety product available. It is a unique design, and the only device that actually ejects the fingers if they should be inserted into the hinge area of a door whilst being shut.
The Fingersafe protection device is designed specifically for commercial capacity and has proven ability to ensure the fingers are always ejected when the door closes; thus ensuring the safety aspect for which it was designed.
Fingersafe consists of two parts; the fixing strip and a pleated guard. These are made of UPVC and are co-extruded so it is rigid, yet flexible where needed. The design covers the space between the door and the hinge and ensures that there is no way the fingers can remain in the door edge to be injured.
Fingersafe is exclusive in its operation. It is installed on the hinged end of the door. Fingersafe works with the door; it lies flat against the door frame when the door is shut, yet spreads open like an accordion when the door is opened. The fingers are gently ejected if they become trapped in this area of the door while it is being closed.
Every child friendly establishment, be it a school, fast food restaurant, retailer, sporting and recreation centre, etc. would care to understand these hazards and take the initiative to minimise these risks, as well as any potential liability. Fingersafe is also widely use in aged care facilities; protecting fingers from serious injury, and limiting the liability of the providers and owners of such services.
Fingersafe is the only door hinge safety device to offer full protection and durability.