Shop our range of Kethy Cabinet Knobs online, or in our Melbourne Showroom. Specialising in quality cabinet hardware, these designer styles are the perfect choice to upgrade the cabinetry in your kitchen or bathroom.

What are the best cabinet knobs?
Kethy Cabinet Knobs and Cabinet Pulls Handles are very popular with Interior Designers, Architects and Builders looking for products made from quality materials with different sizes, shapes and finishes. They are a popular choice for kitchen cabinets, kitchen drawers, laundry cabinets, laundry drawers, bathroom cabinets and bathroom drawers. Made from timber, steel, iron, aluminium or zinc, these Cabinet Handles are built to last, look fantastic and add a special finish to your cabinets, cupboards and drawers.
Installing Kethy Cabinet Knobs

Kethy Cabinet Lip/Edge Pull Handles are designed to be easily screwed to the edge of your cabinet doors protruding between the drawer or door gaps, creating a very sleek, modern look and feel. They are easy to fit and install for most applications.
The Kethy Cabinet Knob Range
Our Designer Kethy Hampton - Industrial Style Kitchen Cabinet Knobs and Door Pull
Handles are unique, timeless and stylish. Inspired by the Hampton-Industrial Period, choose your preferred shape/style of Cabinet Handle and click on the image to view it in a variety of lengths, finishes and prices. 
The range of Kethy Timber Cabinet Knobs is beautiful, stylish and timeless. Natural materials such as wood are consistently in demand due to the warmth they bring to a home. Particularly in your kitchen or bathroom, a timber touch can help to soften the look and feel of the room. These knobs have unique features to choose from, such as the Aqua interior on the wok style l4406 cabinet knobs​ or the beautifully detailed ring inlay on the round cone​ l4316 knob​ (available in both Beech and Jarrah wood). These designer Timber Cabinet Knobs are available in several woods and styles, including Jarrah, Beech, Oak, and Walnut. 
Kethy Stainless Steel Pull Handles are perfect for your home or project. With their sleek, stylish and durable stainless steel designs, these long-lasting handles will look perfect in any design.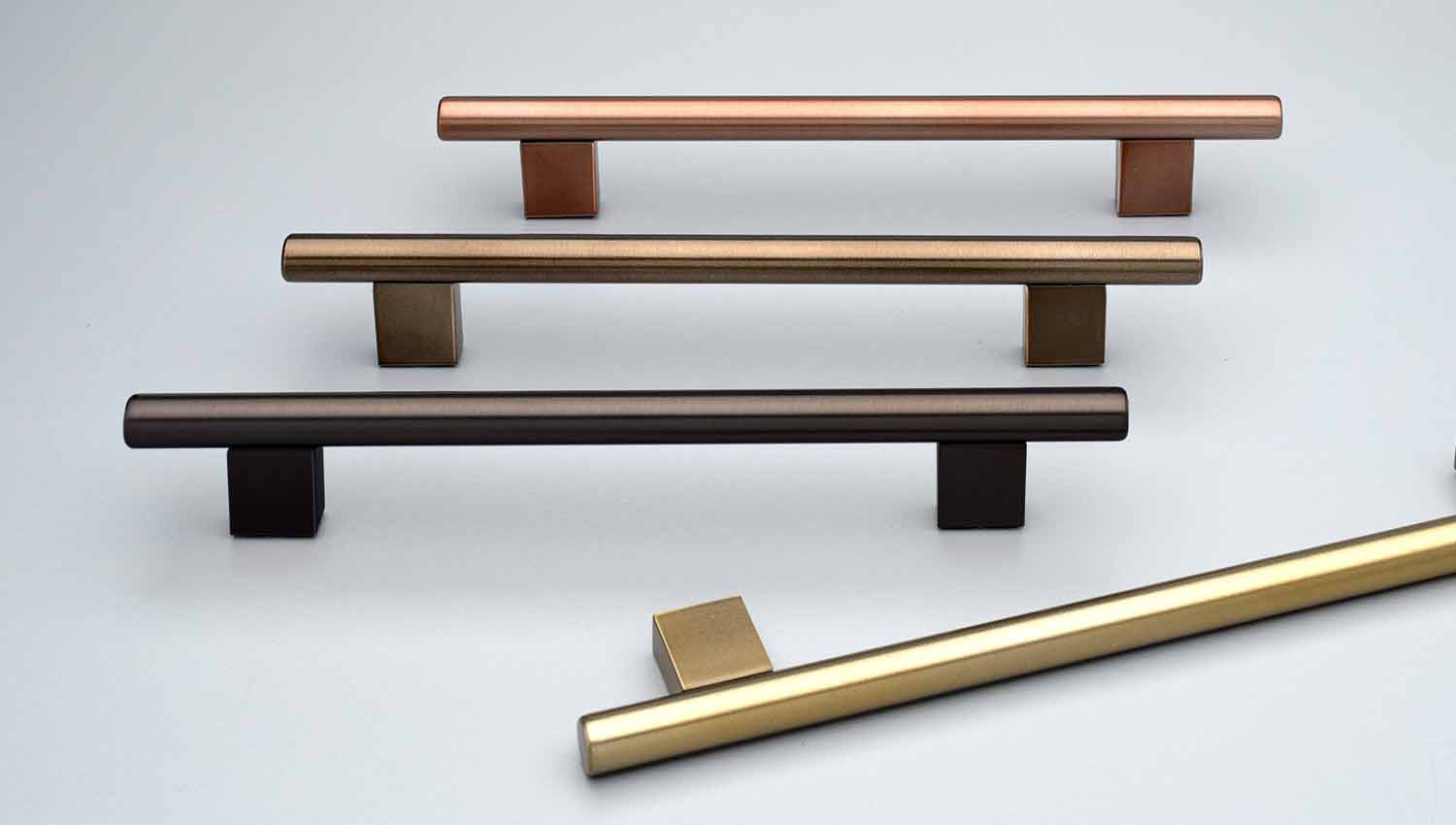 Kethy Cabinet Handles
Sophisticated and elegant cabinet hardware from Kethy Australia. Kethy's stainless steel pull range offers an alternative to its timber range for any home project or office use. Sleek and stylish, these are tailored to be durable and can be used in almost any space.
Shop Kethy Cabinet Pulls